Description
The Bure Rise & Go walker is equipped with a patented power rise function, making it an affordable option that combines a stand-up aid, mobility aid, and walking aid all in one product.
TR Equipment is capable of providing the Gate Bure Rise & Go to customers located in both the Americas and the UK.
Key Details
Unique power rise assistance: Bure Rise & Go acts as a stand-up, mobility and walking aid in one and the same product, which makes the concept very cost effective.
Walking Training: Bure Rise & Go is designed to ease walking training and rehabilitation for many different patients.
Optional Transport Footplate: 

Transport footplate available for easy transportation.

Optional Gait Training Harness: 

Gait training harnesses are accessories used for increased safety when training using the Bure Rise & Go. The product's two groin straps and attachment hooks minimize the risk if the user becomes dizzy or similar.
Steps of Operation
Step 1
The harness is fitted over the patient's lower back and bottom, the straps adjusted and the leg supports placed in the correct position.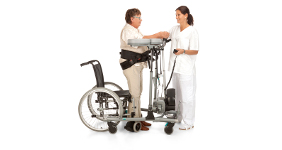 Step 2
The patient holds on to the handles and the electrically driven power rise function begins. The patient follows a natural pattern of movement with the aid of the unique harness and the vertical lift action.